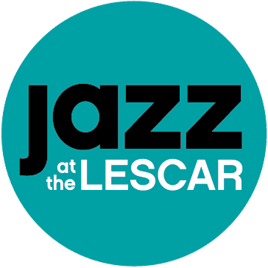 Every Wednesday The Lescar is home to the best weekly jazz night in Sheffield. With a diverse range of music from local, regional and national touring artists who showcase the depth and vibrancy of the UK Jazz scene, it's an all year round jazz festival on your doorstep!
Music starts at 8.45 pm, doors 8.15 pm.
Advance tickets are available for all Jazz at the Lescar gigs from Porter Brook Gallery (Sheffield Music Shop), Hickmott Road, (open 10am - 5pm, Tuesday - Saturday).

Jez Matthews
Email: lescarjazz@gmail.com
Telephone: 0774 020 1939

The Lescar Hotel
Sharrowvale Road
Sheffield
S11 8ZF (map)
www.thelescarhuntersbar.co.uk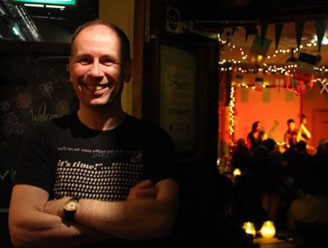 Sheffield Jazz
You can also catch some great jazz at Sheffield Jazz, with two seasons running annually throughout the Spring and Autumn at three venues: Millennium Hall on Ecclesall Road, the Auditorium at Sheffield University Students Union on Western Bank, and the Crucible Theatre Studio.
www.sheffieldjazz.org.uk






18th January 2017
Ben Lee Quintet

£6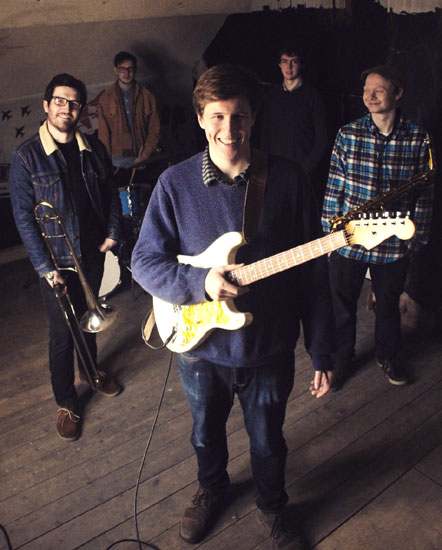 Five rising stars from Birmingham.

Guitarist Ben Lee and organist David Ferris return after a brilliant gig in 2015, this time in a line up that features Chris Young (Alto Sax), Richard Foote (Trombone) and Euan Palmer (Drums).

Ben's music is alive with fresh ideas, swinging and funky, open and energetic, approachable; music with a smile on its face.





25th January 2017
Wandering Monster

£6
Featuring members of the acclaimed Zeitgeist and Stretch Trios, winners of the prestigious Jazz North Introduces Award for 2016, this dynamic, adventurous band features five young stars of the Leeds music scene. Sam Quintana (bass), Ben Powling (tenor sax), Calvin Travers (guitar), Aleks Podraza (piano/keys), Ali Wells (drums).

Off-kilter grooves, hooky melodies and intense improvisation.
1st February 2017
C Bop

£6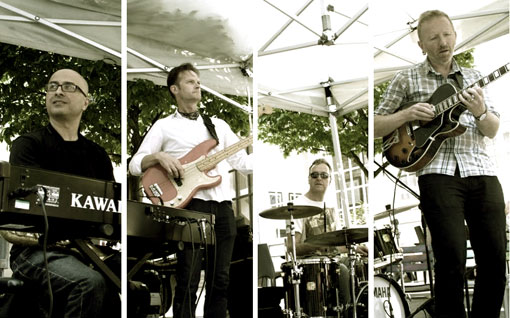 Brilliant guitarist Chris Walker returns with his energetic and funky band of Sheffield's finest, with Piero Tucci (keys and sax), Alex Henderson (bass), Phil Johnson (drums).

Sure to be a busy night, you can expect to hear a combination of influences, from Wes Montgomery and George Benson to Pat Metheny, Mike Stern, Michael Brecker, John Scofield and Snarky Puppy.
8th February 2017
Zoe Gilby's Pannonica

£7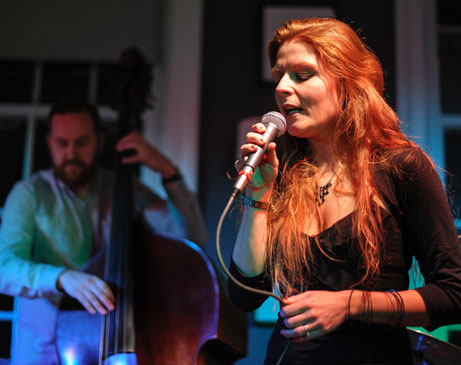 With a rising profile and recent appearances at the Gateshead and Cheltenham jazz festivals, vocalist Zoe Gilby brings her latest project featuring some of the North East's finest instrumentalists, paying tribute to American singer Carmen McCrae.

Paul Edis (piano), Andy Champion (bass) and Adrian Tilbrook (drums).

Swinging, honest, and respectful, Carmen McRae's interpretations of Thelonious Monk tunes are filtered through Zoe's own highly musical approach.




Visit: www.zoegilby.co.uk/projects/pannonica/
15th February 2017
Alex Munk's Flying Machines

£6
With one of the best, most critically acclaimed albums of 2016, we welcome back guitarist Alex Munk with his band featuring the brightest of the UK's new generation of jazz stars, with Matt Robinson (piano), Conor Chaplin (bass) and Dave Hamblett (drums).

A uniquely energetic and lyrical mix of rock guitar improv with big melodies and luscious ambient soundscapes.

"A wonderful young guitarist with a unique musical voice" Stan Sulzmann
22nd February 2017
Camilla George Quartet

£6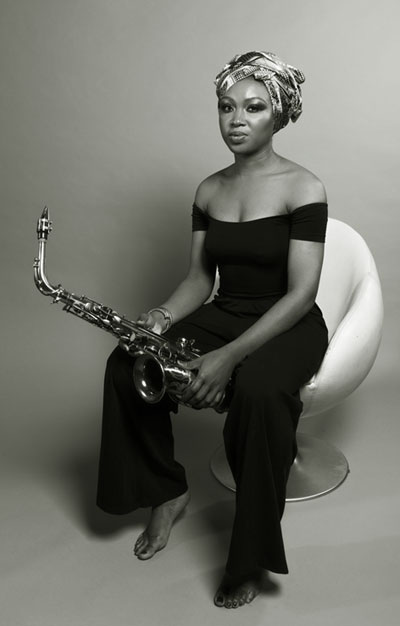 The Lescar hosts the first date on the debut tour by one of the UK's most dynamic young talents, sax player Camilla George, with a brilliant ensemble featuring Sarah Tandy (piano), Daniel Casimir (bass) and Femi Koleoso (drums).



Mentored by Gary Crosby and Jean Toussaint, Camilla regularly performs with Courtney Pine's band. A wonderful tone, phrasing, and swinging approach; catch Camilla and her quartet at The Lescar first!
1st March 2017
Family Band

in association with Jazz North

£6
Selected for Jazz North's prestigious Northern Line touring scheme, a quartet who's debut album was one of the best new releases of 2015.

Co-led by trumpeter Kim Macari and bassist Tom Riviere, the band also features Riley Stone-Lonergan (tenor sax) and Steve Hanley (drums).

Thoughtful and instinctive, energetic and spontaneous, full of rhythm and energy, their music is influenced by the music of Ornette Coleman, Paul Motion, Peter Evans and John Coltrane.
8th March 2017
ARQ (Alison Rayner Quintet)

£7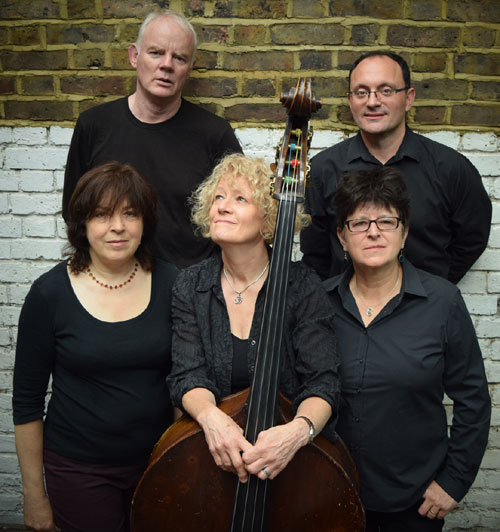 On

International Women's Day

, a band featuring some of the UK's finest female musicians.

Leader Alison Rayner (bass) is joined by her colleague of nearly 40 years (including with acclaimed all-female Latin-jazz group, The Guest Stars), Deirdre Cartwright (guitar), Diane McCloughlin (sax), Steve Lodder (piano) and Buster Birch (drums).

Influenced by Charlie Haden, Jaco Pastorious, Charlie Mingus, Weather Report and Pat Metheny, contemporary jazz full of grooves, and rich melodies, played by five of the most experienced and acclaimed musicians in the country over many years.
Saturday

11th March 2017
Kit Downes and Tom Challenger

£9
At

Hop Hideout

(next door to The Broadfield pub)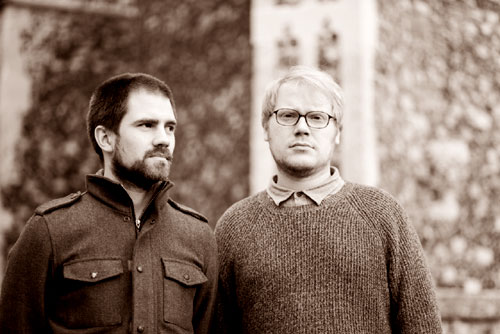 Experience two of the UK's most acclaimed and innovative improvising musicians in the intimate space of Hop Hideout: Kit Downes (harmonium) and Tom Challenger (tenor sax).

Kit and Tom's second album 'Vyamanikal' is one of Jazzwise magazine's top 20 albums of 2016; a nuanced, minimalist treasure, documenting improvisations on old organs (often in various states of disrepair) found in local churches around Suffolk. The music was presented at Aldeburgh Music Festival as well as Manchester, London and Marsden Jazz Festivals.

Kit Downes, a former Mercury Prize nominee, will be recording for the legendary ECM record label in 2017.

Sample this unique, mysterious music and delve into Hop Hideout's selection of craft ales. A perfect mix!

'Kit Downes and Tom Challenger have created something far more universal, a democratic tone poem, where every imagination is invited to chart its own Suffolk landscape.' Jazzwise Magazine
15th March 2017
Impressions

£6
A long overdue return to The Lescar for vocalist Karen Lake, with her long-standing Sheffield-based line-up with Pete Lyons (tenor sax), Jez Matthews (piano), Rich Keates (bass), Brian Bestall (drums).

A powerful singer with a distinctive approach to both classic jazz tunes and also some more unexpected and original material. Pete Lyons on tenor sax is one of the region's most respected musicians. Rich Keates on bass is a dynamic and strongly rhythmic presence, and Brian Bestall on drums is subtle and swinging.
22nd March 2017
World Service Project

£7
One of Europe's most exciting bands, playing at gigs and festivals across the US, Europe, and China, World Service Project skilfully mix jazz and improvised music with punk energy.

Their third album 'For King and Country' was released on Rare Noise Records in April 2016. Noisy, intense, and eccentric, yet wholly accessible.

With Dave Morecroft (keyboards/vocals/compositions), Tim Ower (sax), Raphael Clarkson (trombone), Arthur O'Hara (bass), Harry Pope (drums).
Page last updated: 30th December 2016