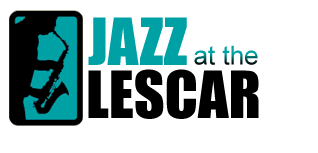 Every Wednesday The Lescar is home to the best weekly jazz night in Sheffield. With a diverse range of music from local, regional and national touring artists who showcase the depth and vibrancy of the UK Jazz scene, it's an all year round jazz festival on your doorstep!
Entry £5 (unless otherwise stated). Music starts at 9pm, doors 8.30pm.
Advance tickets are available for all Jazz at the Lescar gigs from Porter Brook Gallery (Sheffield Music Shop), Hickmott Road, (open 10am - 5pm, Tuesday - Saturday).

Jez Matthews
Email: jezm@jezm.f9.co.uk
Telephone: 0774 020 1939

The Lescar Hotel
Sharrowvale Road
Sheffield
S11 8ZF (map)
www.thelescarhuntersbar.co.uk











February 26th Johnny Hunter Quartet
One of the most lively and creative drummers around, Manchester-based Johnny Hunter returns with a quartet featuring the talents of Ben Watte (tenor sax) and Graham South (trumpet) from the Beats & Pieces Big Band, and Stewart Wilson on double bass. Their 2013 CD on Efpi records recently made it onto BBC Radio 3's Jazz on 3 programme. Expect original contemporary jazz played with great energy and freedom.

March 5th Vitor Pereira Quintet
Based in London, another all-star line-up, with an album 'Doors' out on F-Ire records. Chris Williams (Led Bib) - alto sax, George Crowley - tenor sax, Andrea Di Biase (Kenny Wheeler) - bass, Dave Hamblett - drums, led by Portuguese guitarist Vitor Pereira. Music with a vast range of musical influences, and hints of both classical and world music.

March 12th Ryan Taylor
Return to The Lescar for Sheffield based singer and keyboard player Ryan with this great six-piece band featuring Emlyn Vaughan (Bass), Ali Mac (Drums / Percussion), Danny Maddocks (Guitar), Tom Bond (Trumpet), Jonny Yeoman (Tenor sax). Jazz laced with a good dose of Neo-Soul and Funk, and with influences from Stevie Wonder and James Brown to Cole Porter, Burt Bacharach and Irving Berlin. With an incredibly busy schedule and headline appearances at Glastonbury's Jazz and Blues stage in 2010 and 2011 under Ryan's belt, you know this is going to be great night!

March 19th Afuriko
An inventive mix of jazz and West African rhythms, this duo based in Paris features Japanese percussionist Akiko Horii and Anglo-French musician Jim Funnell (keyboards), joined for a UK tour by special guest Hiroshi Fukutomi on guitar, promoting their new CD "On The Far Side", released on F-IRE on March 11th.

March 26th The Weave (In association with Jazz North)
Visiting us from Liverpool on the back of rave reviews from all the venues they've played at, The Weave are a tightly knit band with a warm, melodic and joyful sound rooted in the jazz tradition, and featuring Martin Smith (trumpet), Tony Ormesher (Guitar, seen at The Lescar previously with The Magic Hat band), Tilo Pirnbaum (Drums), Tony Peers (Trumpet), Rob Stringer (Piano), Hugo Harrison (Double Bass). We're indebted to Jazz North for helping us to make this gig happen.

April 2nd Laura Jurd Quartet
Hailed by critics and audiences alike as one of the most promising musicians of her generation, and a widely acclaimed album ('Landing Ground', many peoples' favourite of last year), Laura brings her regular quartet of some of the brightest young stars from the London scene, making a name in their own right, Elliot Galvin (piano), Conor Chaplin (bass), Corrie Dick (drums). Drawing upon original compositions and traditional melodies as a basis for improvisation, this classic quartet line-up fuses elements of European folk, Jazz and Classical traditions, creating a unique and distinctive soundworld.

'Jurd stretched critics and musicians' repertoire of superlatives with this sophisticated and technically awesome session – on memorable originals with folk and contemporary-classical connections, delivered with the assurance of a budding trumpet-improv original.'

John Fordham, The Guardian

April 9th Aubin and Sunniva, with Neil Yates (PRS New Music Series)
Singer Sunniva Brynnel and guitarist Aubin Vanns are joined by trumpeter Neil Yates. Music with roots in Swedish, Celtic, American folk music as well as contemporary jazz, Sunniva has a beautiful voice, which combines sinuously with Aubin's original and delicate guitar, and the mellifluous folk-inflected trumpet playing of Neil Yates. Pure and passionate music.

April 16th Stuart McCallum and Mike Walker £6
After their amazing sold-out gig last year, a welcome return for two guitarists who are simply two of Europe's finest, between them creating truly wonderful and approachable music. Songs by Oasis, Nick Drake, The Beatles, as well as their own material, played on steel string acoustic, a baritone acoustic, a soprano acoustic and a classical acoustic guitar. Arrive early for this one!

April 23rd Richard Iles' Microscopic (In association with Jazz North)
Featuring some of the North's finest musicians, led by Richard Iles (trumpet/flugelhorn), Les Chisnall (piano), Percy Pursglove (bass), and especially for this gig, in his second appearance in as many weeks, the amazing Mike Walker on guitar. A band with an incredible pedigree, between them these musicians have played with Gwilym Simcock, Joe Lovano, John Scofield, Gary Burton, Kenny Wheeler, John Taylor, and Evan Parker, and you can expect their music to reflect this wealth of experience, as well as Richard's own finely tuned melodic instincts. Again, we're grateful to Jazz North for helping to make this gig happen!

April 30th Ivo Neame Quintet £7
A special event for us at The Lescar, pianist Ivo Neame has achieved international success through his involvement with acclaimed piano trio Phronesis, and acclaimed as one of the finest composers and arrangers of his generation following his recent album 'Yatra' on Edition records. He brings his outstanding band featuring Tori Freestone (flute/tenor sax), Jim Hart (vibes), Tom Farmer (from Empirical, on bass), and Dave Hamblett (drums). This will be the final date of a 6 week tour that also includes dates at the legendary Bimhuis jazz club in Amsterdam and Symphony Hall in Birmingham.

May 7th Michelson Morley
Led by Get The Blessing saxophonist Jake McMurchie, this band from the Bristol features Will Harris on bass, the resourceful, energetic and tasteful Mark Whitlam on drums, and special guest Corey Mwamba (vibraphone). Together this new band combine electronics and acoustic instruments with a minimalist, evolutionary approach to improvisation to create melodic and atmospheric music.

May 14th SUJO
In an attempt to break the record for the number of musicians in the back room of The Lescar, we're pleased to welcome the 17 piece Sheffield University Jazz Orchestra led by experienced pianist and trumpeter Nick Fletcher. Formed 15 years ago, the band have played at various gigs and festivals around the country, including Sheffield Jazz and the Sunderland Big Band Festival. For this visit they will be focussing on the music of Dave Holland, Stan Tracey and Kenny Wheeler, and other UK composers. For obvious reasons, space will be limited for this one, so get there early!

May 21st Christine Tobin with Phil Robson & Dave Whitford £7
Another very special night! Irish-born singer-songwriter Christine Tobin was named Best Vocalist at the BBC Jazz Awards in 2008, and hailed by Jazzwise as "probably the most adventurous jazz singer of her generation in this country". As well as regular appearances at the major London venues (Ronnie Scotts, The Vortex, etc) she has appeared at many festivals including Cheltenham, Brecon, and internationally at Monterey, Shanghai, Berlin, Cork, Frankfurt, Molde, plus residencies at the Jamboree in Barcelona and the Half Note in Athens. A free spirited musician with an eclectic approach, we're fortunate that she is able to drop in en-route to a Scottish tour, with brilliant guitarist Phil Robson (Partisans) and one of the UK's most in-demand bass players Dave Whitford.

May 28th Sam Leak - Alex Merritt Quartet
Having visited us twice last year, including with his own critically acclaimed band Aquarium, another one of the UK's very best young pianists returns to The Lescar with brilliant young tenor player Alex Merritt, a graduate of Birmingham Conservatoire, who's own quartet made its debut at Ronnie Scotts in December last year. Together they bring a quartet playing a mix of standards and their own compositions.

Page last updated: February 22nd 2014